MK CobraTig® 150
Digital GTAW Orbital Tube Welder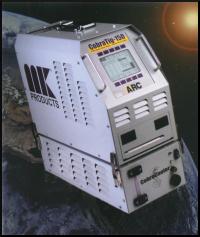 CobraTig® 150 Shown with Optional CobraCooler
Weld Circles Around the Competition!
The portable, lightweight CobraTig® 150 with SmartArc® provides the automatic control you need to deliver repeatability, verification and traceability in high integrity orbital welding.
SmartArc® software develops a near ideal weld procedure through the use of our Automatic Procedure Generator. Just enter the tube OD and wall thickness - the rest is automatic.
The rugged construction of the portable CobraTig® 150 is the perfect package for your construction environments ... and the CobraTig® 150 weighs only 42 pounds (19.1 kg)!
The optional CobraCooler water supply fits tightly under the power supply providing water cooling for any MK weldhead. All CobraTig® 150 systems are shipped in a sealed rugged case with wheels.
Features At A Glance
User Friendly LCD Program Screens
Weighs just 42 Pounds (19.1 kg)
150 Amps @ 100% Duty Cycle
Auto Procedure Generation
Complete Data Monitoring
SmartArc® Digital Controller
High Speed Thermal Printer
Optional Integrated CobraCooler
Model 254-150 CobraTig 150
Digital Welding Power Source Features
150 amps pulsed or constant current stable down to 1 amp.
High Voltage Pulse automatic arc starting to 25 amps.
Orbital and manual weld modes of operation.
(APG) Automatic Procedure Generation, simplifies orbital weld procedure development by creating a near ideal procedure from basic input data such as tube OD and wall thickness.
Automatic Tacking feature provides up to 7 opposing tack locations around the weld joint circumference.
Automatic orbital weldhead speed calibration.
(8) weld levels for smooth current and motor sloping around the circumference plus upslope and final slope.
Level by level scaling software remembers, and recalculates upon demand, all modifications performed by the operator during the orbital weld resulting in a "new" weld procedure that can be saved for future use if desired.
LCD display provides automatic light sensor for day or night viewing.
Integrated high-speed thermal printer provides real-time weld data monitoring and post weld reporting of orbital weld procedure text and waveform graphs.
Soft-key front panel keypad for user interface.
Store and modify up to 25 orbital weld procedures.
Metric and English units for orbital weld data input.
3 range manual weld modes, 0-50, 0-100 and 0-150 amp ranges, constant or pulsed.
Data Monitoring and Performance Logging
Data monitoring of faults detected during the weld sequence, including gas, current, voltage and motor.
Performance logging of weld parameter text and graphic wave forms, such as current, voltage and motor. For monitoring and logging output deviations from demand values.
Computer Control System
Micro-controller
architecture Proprietary multi-tasking operating software
Computer memory
Dual Micro-Controller design with non-erasable loader program and FLASH user up-datable memory for software storage. Non-volatile SRAM for user programs (saved on power off).
Infrared Communication port
Transfers weld procedures between CobraTig® 150's.
Software Updates
Through RS 232 cable from computer/laptop. Off-Line Program Generation with Windows® NT/95/98 Software Program. Also Convert ACL Custom Procedures.
Program Storage
25 weld procedures in machine, unlimited on floppy disk.
Technical Specifications
Line Power:
100VAC (+/-10%), 60 Hz single phase
120VAC (+/-10%), 60 Hz single-phase
208/240 (+/-10%), single or 3 phase,
50/60 Hz, 30 amps.
Output Current:
150 amp, (+/- 1%), constant or pulsed.
Pulse Rate:
0.01 to 2.55 seconds per pulse.
Arc Voltage:
65VDC open circuit, up to 26VDC while welding.
Loop Response:
1.5 KHz.
Current Reg. Frequency:
30 KHz.
Motor Control:
24V, 2 amp maximum DC tachometer feedback.
Weight
42 lbs /19.1 kg
Height
14 in /35.6 cm
Width
8.5 in /21.6 cm
Length
19 in /48.3 cm
Options
250-150 CobraCooler
005-0610 Accessory kit
005-0652 AmpTrack Torch Control kit
WeldHeads Supported
Model 5000 MK Mr. Micro Weldhead.
Models 5001-5003, MK Copperheads.
Models 6004, MK Cartridge Weldhead.
Arc Machines Weldheads
Astro Arc Weldheads
- - - - - - - - - - - - - - - - - - - - - - - - - - - - - - - - - - - - - - - - - - - - - - - - - - - - - - - - - - - - - - - - - - - - - - - - - - - - - - - - - - - - - - - - - - - - - - - - - - - - - - - - - - - - - - - - - - - - - - - - - - - - - - - - - - - - - - - - - - - - - - - - - - - - - - - - - - - - - - - - - - - - - - - - - - - - - - - - - - - - - - - - - - - - - - - - - - - - - - - - - - - - - - - - - - - - - - - - - - - - - - - - - - - - - - - - - - - - - - - - - - - - - - - - - - - - - - - - - - - - - - - - - - - - - - - - - - - - - - - - - - - - - - - - - - - - - - - - - - - - - - - - - - - - - - - - - - - - - - - - - - - - - - - - - - - - - - - - - - - - - - - - - - - - - - - - - - - - - - - - - - - - - - - - - - - - - - - - - - - - - - - - - - - - - - - - - - - - - - - -