Precision Welding Lathes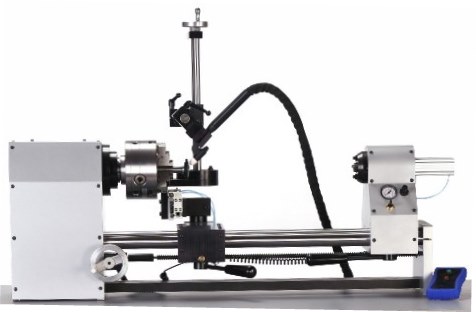 For highly repeatable weld results with extremely consistent welding speed and minimal run out
Improve Weld Quality · Increase Weld Output · Lower Labor Costs
The Pro-Fusion Precision Welding Lathe is designed to allow unskilled personnel to consistently produce high quality welds on a wide range of circumferential parts. With over 20 years of welding experience, Pro-Fusion can assist in weld schedule development and tooling in order to provide a complete, turn-key automatic welding system.
Rigid, machined frame construction provides a solid, non-flexing platform for Headstock, Tailstock, and Torch Tower
Air actuated torch stand with variable speed controls
Air actuated Tailstock with pressure and speed controls
Lathe Tilts 90° for vertical welding position
Custom designed welding speed control ensures extreme accuracy for precision part motion
Longer lathe beds available up to 72"
Pro-Fusion Lathes As Part of Complete Automated Welding Systems
A complete Pro-Fusion welding system offers computer control of critical welding parameters including programmable peak and background welding current, arc pulsation, upslope, downslope, pre and post purge gas control. Pro-Fusion TIG/Micro-TIG and Plasma/Micro-Plasma welding power sources are available as a completely integrated package with a Pro-Fusion lathe. An optional touch-retract system allows for precise tungsten to work gap settings for additional torch positioning.
Pro-Fusion Precision Welding Lathe
Specifically designed for welding and is not a modified or adapted machine lathe.
Designed to enable horizontal or vertical configuration with no extra parts required.
HEAD STOCK: Durable construction, DC servo motor, U.S. made roller spindle bearings, 6", 3 jaw, true-set chuck featuring manually settable alignment adjustments. RPM range is 0.5 – 25.0 RPM. Custom RPM ranges available on demand.
TAILSTOCK: moves on rails with ease for quick adjustment and manual lock. Live center features air actuated 3" stroke with pressure / speed controls and independently adjustable alignment.
CAPACITY: 16" length, 12" diameter. Max welding amperage: 300
TORCH FIXTURE: Pneumatic advance / retract for weld set up and part removal. Micro adjustments on X Y & Z axis. Torch may be positioned from 0 to 360º on a rotating mount. Torch may be positioned for backhand and forehand welding positions.
MOTOR CONTROL: Electrically isolated for protection against high frequency. To be used with tachometer equipped DC gear motors with maximum of 24V DC, 3 amps. Illuminated push button controls. Solid state design means no mechanical relays. Controls include remote, local, forward and reverse. Accuracy: Less than 1% of full scale error for settings between 10% and 100% full scale. Time delay fuse protected.
The Pro-Fusion PFL 1216-3J comes complete with all controls, regulators, air filters and grounding brush.
Specifications
RPM 0.5 - 25 Standard
Max Diameter Part: 12"
3-Jaw Tru-Set Chuck Standard
5C Chucks, pneumatic or manual on request
Distance Between Centers: 16"
Custom Lengths Readily Available
Tailstock: Air actuated, 3" travel, pressure & speed controls
Torch Tower: Pneumatic advance and retract with speed controls, X, W, Z axis w / fine adjustments
Torch Mounting Block: 360° rotation & right or left hand set up
Overall Length: 45"
Height of Headstock: 16 5/8"
Overall depth: 26"
Weight: 230 lbs
Input Voltage: 115 VAC
Controls: Forward, Reverse, Jog, Local and Remote
Custom Configurations on Demand